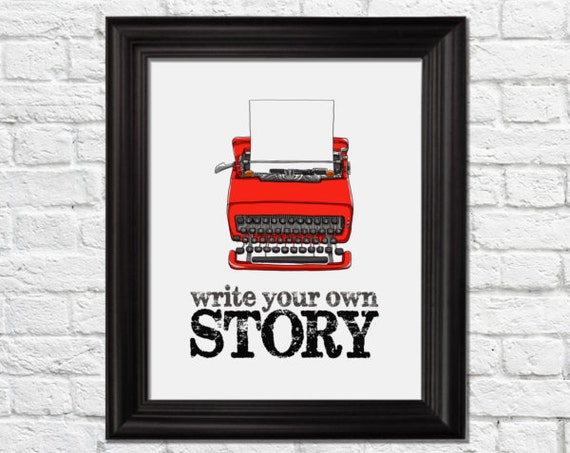 "It's just…"His eyes dart away and he stops talking.
I sit there quietly, waiting for him to finish his sentence.  I can tell he is down, I can tell he is unsure.
"It's just…" he begins again after a long pause, "It's just that I really hate writing, I'm sorry."  And he gives me that look that only a child can give you, that "please don't hate me" look that cuts straight through me.
A million thoughts fly through my head, mostly surprise.  I would never have guessed, not this kid, not him, he is too good of a student.  And yet, he waits, so I ask the only thing I can think of, "Well, when did that start?"
I don't think I hated writing as a child.  It was something I did gladly, often delving into long stories filled with tragedy and drama as I worked through my own quiet life.  I remember all of the essays I had to write and how I had to wait until I was inspired or the deadline had passed and a teacher was asking me to hand it in before I wrote.  But hated it?  Nah, more inconvenienced than anything else.
But this child, with his courageous statement, is not alone.  More and more often I hear it from my students; "We hate writing.. We hate being told what to write.  We hate having to come up with something when we are not inspired."  And I know I cannot be alone .
So what do we do as the teachers of the future writers?  How do we bring back the passion into our writing curriculum, much like we aim for in our reading?  How do we show these kids that writing is not a chore, not something simply to get through to get to the next thing, but the way for them to have a voice.  The way for them to make a difference from where they are right now?
We start with blogging.  By providing them with a platform for putting their voice into the world where they can see their words are being read, and their words carry weight.  Where others can comment and start a conversation.  We then add choice, authentic purpose, and declare our own passion for writing.  We show how writing makes a difference to us in our lives.  How writing matters and should be held sacred, much like we hold our reading sacred.
But then what?  Where do we go from there?  How do we convince our students that writing does actually matter?  That being a good writer is actually something worth their time and not just something they have to do because their teacher told them to.  Or something forced to fit into an already pre-determined box of thought.   How do we help them un-hate writing again or is it too late?
I am a passionate  teacher in Wisconsin, USA,  who has taught 4, 5th, and 7th grade.  Proud techy geek, and mass consumer of incredible books. Creator of the Global Read Aloud Project, Co-founder of EdCamp MadWI, and believer in all children. I have no awards or accolades except for the lightbulbs that go off in my students' heads every day.  First book "Passionate Learners – Giving Our Classrooms Back to Our Students" can be purchased now from Powerful Learning Press.   Second book"Empowered Schools, Empowered Students – Creating Connected and Invested Learners" is out now from Corwin Press.  Follow me on Twitter @PernilleRipp.