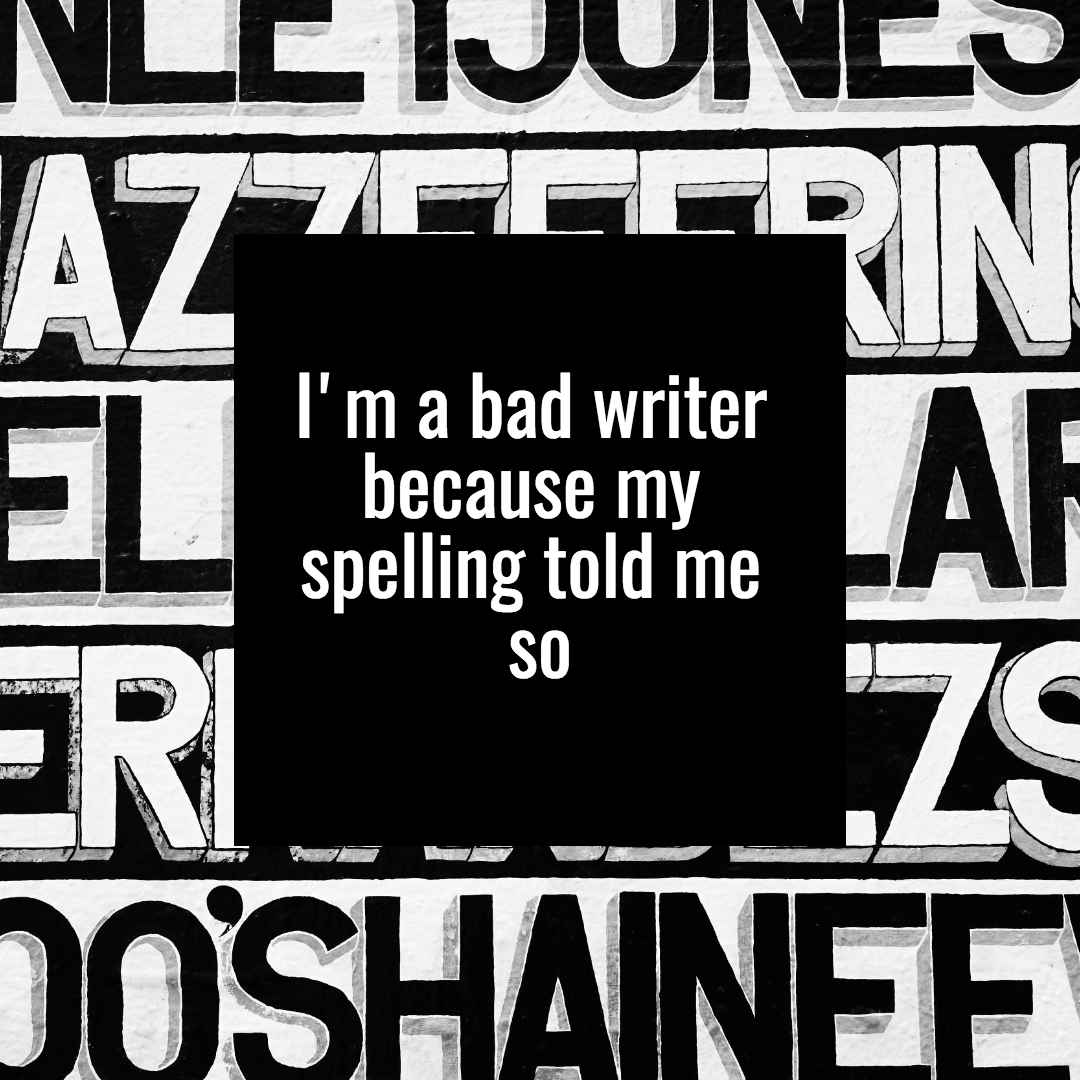 "I'm a bad writer because I can't spell…" a student's answer when I asked them who they are as a writer.
One of the oft-repeated conversations in room 235d is dispelling the notion that to be a great writer you must be a great speller.  While, of course, students need to work on their spelling, I spend a good deal of time helping them realize that content is different than grammar.  That sharing their words is more important than spellcheck.  Now before anyone gets upset with me, yes, I believe that spelling should be taught.  Yes, I believe that students should work on it.  Yes, I believe spelling matters.  BUT.  It can't be the biggest thing we focus on as students get older.  There has to be a balance.
So all year we talk about how we work on our spelling but we develop our writing.  How we shouldn't let our fears of misspelling a word stand in the way of the message we are writing about.  I cannot tell you how many students are relieved to hear that their content and their spelling are assessed separately.  That the two represent different skills and are treated as such.
So few children believe that they are writers if they are poor spellers and that's on us.  That false notion comes directly from how we frame our writing instruction.  From what we focus on when they hand us their stories, their opinions, their words and we focus on how it was written rather than the what even though the assignment was to write a story.
What if we told kids that yes, spelling, grammar, mechanics matter, but they are not the most important skill in writing at all times.  That as a teacher we can support them through the clean up of their work.  That we want them to play with language.  To be fierce in their word choice.  To write what they feel like without the fear of judgment when we take apart their hearts with the symbolic red pen.
So we find a balance in room 235D.  We work on spelling and grammar as their ideas develop, but we give as much or if not more attention to what the idea actually is.  We celebrate the kids that try new things.  That use new words.  That stretch their burgeoning spelling skills as they reach for language they are unfamiliar with.  We look at mentor texts where words were played with, grammar rules foregone, and spelling changed to see how they used these changes to push their truths.  We make a safe space to play with language rather than be worried about what the teacher will say.  It takes time.  It takes trust.  And it takes a deliberate conversation about what writing really can be for our kids.  We need both; focused mechanics instruction but also writing for the sake of discovering who you are as a writer and while the two are not mutually exclusive, we have to be careful with how much emphasis we place on one over the other.
When students year after year tell us loudly that they cannot be great writers because of how they spell, then that should be the impetus of change that spurs us to examine what message we are giving students.  Because as I tweeted last night; when students share their truths with us and we take it as a chance to question their grammar and spelling skills instead of listening to their words, we are once more complicit in the killing of student voice and engagement with school – that's on us, that's a choice.