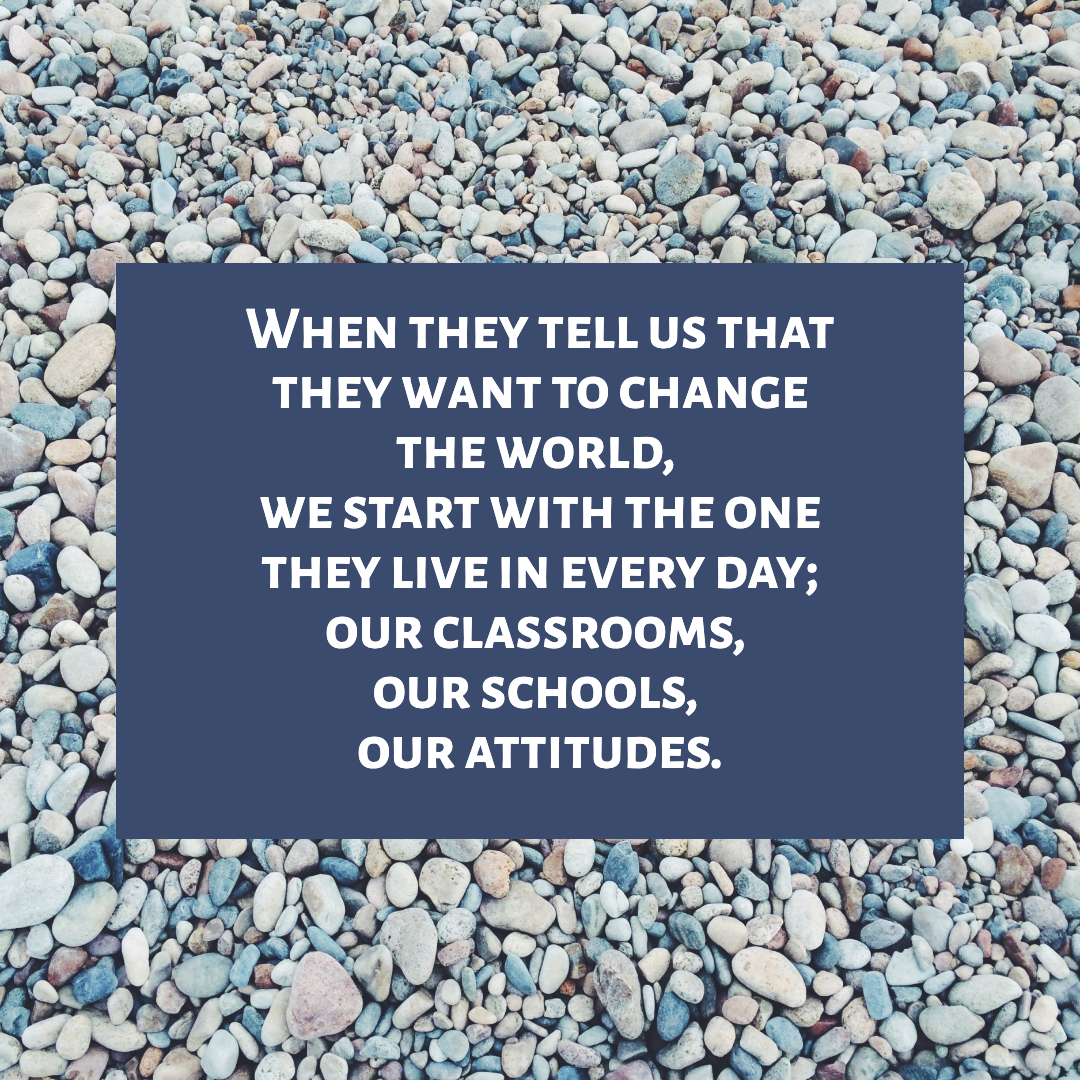 I have been thinking a lot about failure. About this whole notion of growth mindset and having kids take risks. About how often we ask kids to just keep trying even when it is hard yet seem to fail to do so ourselves. About how often we expect kids to give us their all, their best, their utmost, and then for them to navigate the pieces when it all falls apart, after all isn't that what having grit teaches you to do?
About the supposed safety nets we have in place for students to fail safely.
About how we tell them that experimentation is great, that trying something new is the way to learn, about stretching themselves into unknown territory so they can discover who they truly are.
About how it doesn't all add up.
Because the thing is, and I know I have said this before, we say a lot of things as educators without really thinking about what we are asking all kids to do. We say a lot of things without looking at the systems we already have in place, the routines and procedures that wield so much power in our schools that actively fight against this whole notion of embracing failure as another way to learn.
Take grades for example. We tell kids to take risks but then expect them to all succeed even if on shaky ground. If they don't, then their scores or assessments reflect that. How often do we fail to recognize that it is because we attach subjective scores to something that we boil learning and curiosity into something we never intended. It becomes nothing more than an experiment in playing the grade game rather than the true learning experience it should be.
Take control and compliance. How often do our beginning of the year routines surround getting kids to be quiet, to sit still, to only ask questions when we designate the time for it. To make only the smallest of spaces for themselves in order for all of us to function because you can't have a functioning classroom if kids are too loud, too energetic, or take up too much space.
Take how we handle behaviors. How often the preferred method is social isolation playing itself out in some form of removal from the classroom. How often we ask kids to leave in order for us to keep teaching and yet we see the behaviors continue as they rejoin us because nothing has changed in the experience, only paused.
How often we tell our loud kids to quiet down.
How often we tell our quiet kids to speak up.
How often we tell our dreamer kids to come back to Earth.
How often we tell our pragmatic kids to dream.
How often we somehow tell kids that to be a successful student all you have to do is play by the rules but then we never hand them a rule book or we change the rules altogether.
And then we wonder why kids say they don't think school is for them.
So as we race toward the end of the year, or perhaps only the middle depending on your hemisphere, I want to take a moment to think about what my students are telling me they need. About what I am telling them not just with my words, but in my actions, my routines, and my expectations.
About how I need to continue to ask whether I not only would want to be a student in my own classroom, but also could be a successful one. About how we need to not give students a voice because they already have one, but instead need to carve out an authentic space for the things they have to say.
How it starts with asking questions – do you feel respected, does this learning matter, how can we create engaging learning opportunities together? How it continues with reflection – how is my voice and my power being used as a potential tool for inequity, does every child feel safe with me, does every child have a chance of truly belonging? How it rests with us as we realize that there is still so much to be done, and yet so that can be done if we start within the small decisions we make every day. If we take apart the small routines and structures that we put in place to make it work for everyone and ask whether it truly works for everyone, because almost everyone is not close enough. How along with our thoughts surrounding how we want to have better curriculum, we also need to think of how we want students to feel with us and then how we are going to accomplish that.
How when they tell us that they want to change the world, we start with the one they live in every day; our classrooms, our schools, our attitudes.
And it starts now.
And it continues each day.
Because much like our students, we all have so much to learn. I have so much to learn. I have so much more failing to do, only so I can keep growing.
If you like what you read here, consider reading my newest book, Passionate Readers – The Art of Reaching and Engaging Every Child. This book focuses on the five keys we can implement into any reading community to strengthen student reading experiences, even within the 45 minute English block. If you are looking for solutions and ideas for how to re-engage all of your students consider reading my very first book Passionate Learners – How to Engage and Empower Your Students. Also, if you are wondering where I will be in the coming year or would like to have me speak, please see this page.