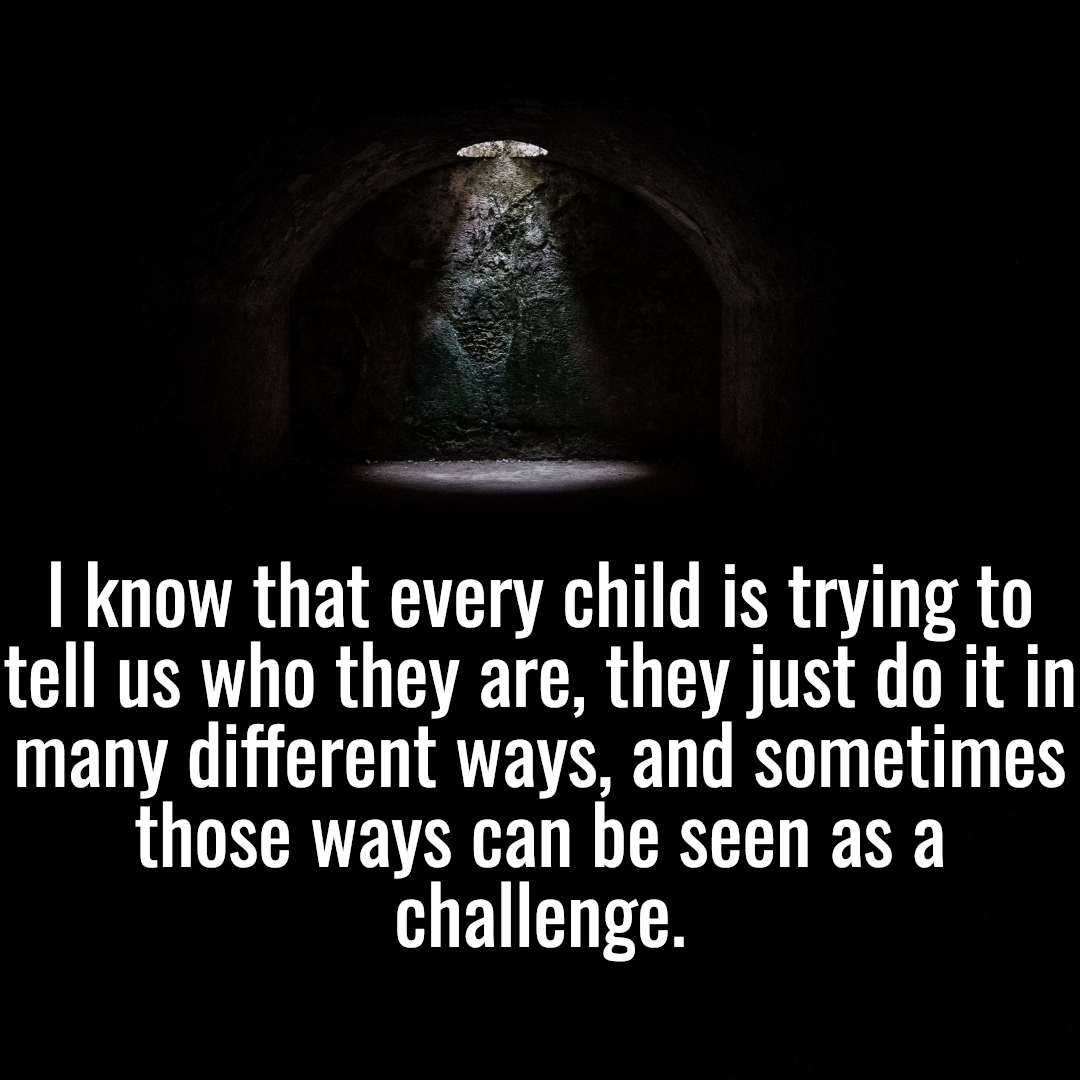 As I sat with colleagues not too long ago discussing a shared former student, it was mentioned how she still sees me as an ally even though I no longer teach her. Hard to believe as this was the same child that slammed my door loud enough to shake the team area while telling me exactly what she thought of me and *!@&*% class. And yet, still, to her, I am someone who cares. To her, I am someone who still has her back, despite our ups and downs while I had her.
We all have these children in our memories, perhaps you are teaching one right now (or many). The kids whose love language seems to be filled with protest, with ways to push us as far away as possible. Whose method of communicating their lives and their needs do not follow the same path as our own. How these kids, our kids, sometimes are the ones that carve out the biggest place in our days and in our hearts as we try to understand what it is they are trying to tell us. How they often make us feel like failures when our latest attempt at connection was dismissed and not enough. And yet….in every moment, in every day, we have this incredible chance to show that no matter what they throw at us, we can still be there, we can still care, we can still ask if they are okay rather than react in a more volatile way.
We speak so often of our vision for what our schools should look like. What they should sound like (silent in some cases which is terrifying but that's for another day). What they should feel like for every kid. We plot and we plan. We dream and we train, and yet, some of that seems to be forgotten the very moment a child fails to live up to our expectations (thank you, Shana White for that thought). The moment a child seemingly steps out of line. We throw our hands up in exasperation, lose our temper, and quickly a situation that did not need to spiral out of control has done just that. Just because we had to prove a point.
I can only speak for myself, I try to not yell. It is something I work very hard at. Not because there are no situations where yelling might be used, but because I think the act of an adult yelling is only to be used in true emergencies. Yelling is only to be used when things are really dire. I don't want to scare, nor intimidate my students, why would I? Instead, I try to treat these kids as the human beings they are; complicated beings who are carrying their own set of burdens every single day, just like I do. I try to treat them the same way I want to be treated; with concern, with an eye on my humanity. Not in an angry, authoritarian way, because in the long run, it does more damage than good.
So as I think about our school system, about the horrible inequities that exist, especially for marginalized populations, I think of what I can do. How I can certainly share the information that inspires me such as this article from Teaching Tolerance, but also the small things that I can do within my own sphere; our classroom. How I can approach each situation with calmness, how I can approach each child with care rather than anger. How I can ask if they are okay rather than jump to conclusions, how I can ask how I can help, how I can respond in calm rather than anger. How I can use humor and trust to try to diffuse the situations that arise. That I can try to be a part of a classroom that functions on humanity rather than punishment. How when I mess up, because I will, I can apologize and try to do better.
I know that every child is trying to tell us who they are, they just do it in many different ways, and sometimes those ways can be seen as a challenge. Yet, I know how deeply I care about my own story being told and heard, I can only imagine that our students do as well. Yes, our system needs to change, and we need to be a part of that, but that change starts right within our own spaces in how we treat the very children we get to teach every single day. How we protect their humanity even as they sometimes rage. We will never know their story if they don't ever trust us enough to share it.
If you are wondering where I will be in the coming year or would like to have me speak, please see this page. If you like what you read here, consider reading my book, Passionate Readers – The Art of Reaching and Engaging Every Child. This book focuses on the five keys we can implement into any reading community to strengthen student reading experiences, even within the 45 minute English block. If you are looking for solutions and ideas for how to re-engage all of your students consider reading my very first book Passionate Learners – How to Engage and Empower Your Students.