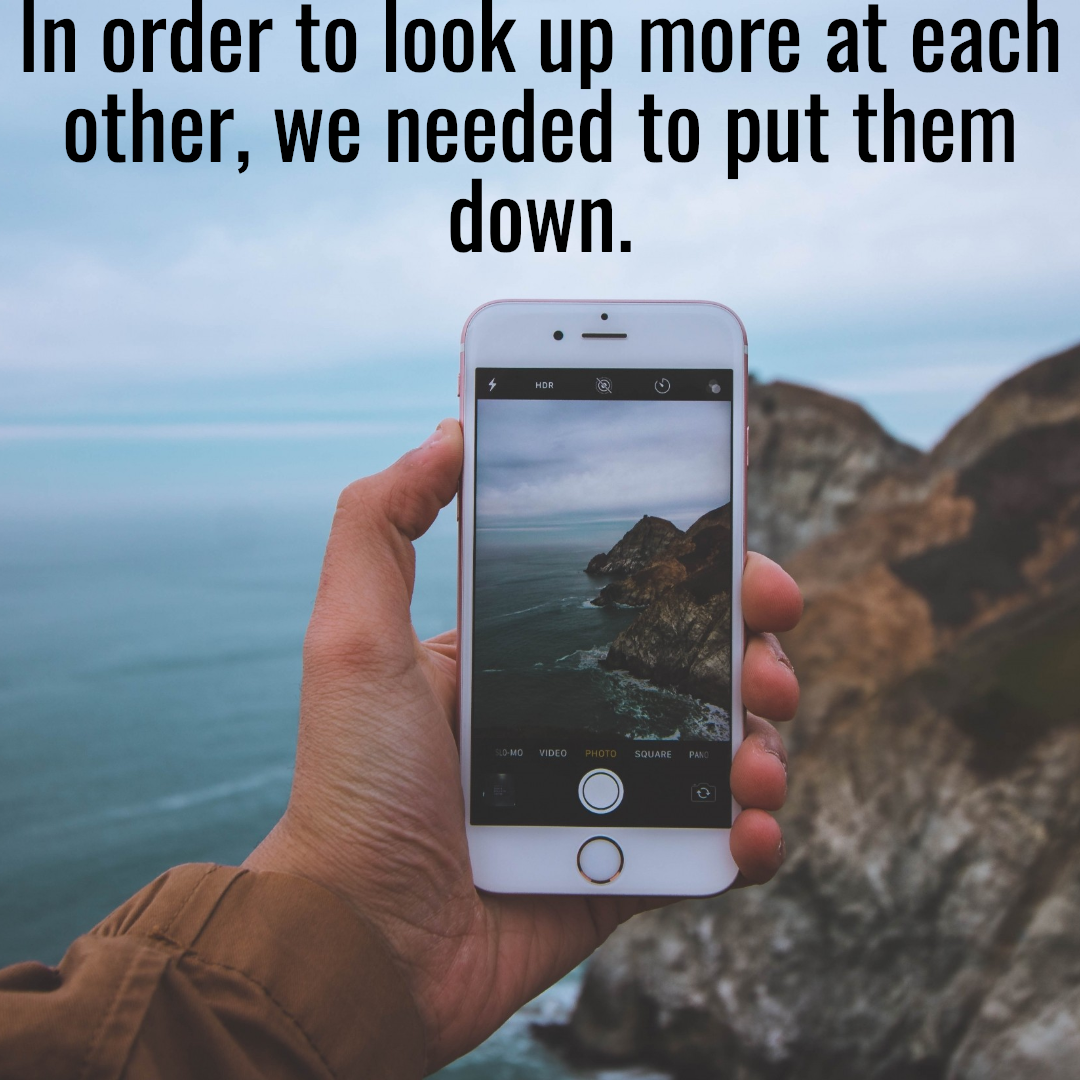 For many years, I was so thankful for the power of BYOD. Working in schools that didn't have the capital needed to provide chrome-books or other computers for easy access to all, BYOD – or bring your on device – was a game changer. We could take pictures, film video, search up things and connect with the world. A few years ago as Chromebook slowly increased in quantity, I started to notice a trend with the way phones were being used in our school. While it wasn't so much that they were used during class, after all, most students were engaged most of the time, it was more that the minute someone screwed up, which inevitably happens often in middle school, there was a device out to record it. To share it, to snap it, to make sure that everyone who was not present now had a front seat. And its effects showed. Our students started taking less risks, afraid that someone would film them. Afraid that the world would know of their mistakes rather than their attempts at success. Anxiety went up, social interaction went down.
I started to pay attention to my own phone habits, how my world seemed to be ruled more by notifications and interactions with people far away, rather than the life that was happening right within my reach. Digging into the research surrounding anxiety and the presence of phones, proved to be eye opening. While there are many benefits to the connectivity of phones, the noted increase in mental health related issues could also not be dismissed. At what cost, was our connectivity and the ease of BYOD causing our students anguish?
And so, we did an experiment. We took a quarter off from our phones in class, me included, and we waited to see what would happen. I wrote more about here in this initial post explaining our thinking and then as a follow up to how it went. It was eye opening but also anti-climactic. Many kids reported it was no big deal, that they were fine without their phones, they didn't miss them, we didn't need them because we had the privilege of having enough technology at our fingertips that didn't require students to have their phones. A few kids grumbled, these were often the kids who were less engaged and more prone to use social media during class. And then there were the few; the kids were it made a huge difference. The ones that reported that they finally felt safe in our classroom. The one that told us of how they had realized that they were constantly checking their phone for fear of missing out and that they hadn't realized how much time it took. The ones that appreciated how people seemed more present, less worried, more there. I was not the only experimenting with this and the results were similar in other classrooms as well.
And so as a staff, we started to discuss whether this should be a school-wide policy: ask students (and staff members) to leave their cell phones in their lockers from bell to bell in order to provide a safer learning experience, an experience that focused on meaningful technology integration, and also an experience that allowed them a larger opportunity for face-to-face connections, particularly during their lunch and recess time where we often saw kids have little to no interaction with those surrounding them because they were too busy using their phones. And while I am not one to dismiss the power of interactions between people using social media or gaming, we wanted them to have a chance to also interact live and face-to-face. After voting, we implemented it for this school year.
As I have had visitors come and see our classroom, they have asked about our noticeable lack of phones everywhere. And I have been asked to write more about it, thus this post. So today, I asked all of my students to give me the honest truth; how does it affect them to be phone-free at their school? Are they missing out since this seems to be a major discussion point in the phone or no phone debate? Are we doing them a disservice by not embracing the tool and teaching them how to use it well? Their answers were enlightening.
While most of my students own a phone, a few don't, reporting everything from cost prohibitions to no desire to own one as the reason why. This led me to think of the equity aspect of expecting kids to all have a phone. Not every family can afford one, not every family wants to provide one to their child, yet when we assume that all students have a phone and then base our instructional experiences around using them, we are creating a noticeable gap between students that may lead to tension and awkwardness in the classroom. As one students said, sure, I could just use a Chromebook but that still makes me stand out and look different than the rest and that can be embarrassing.
I asked my students whether they cared about lack of access to their phones. Overwhelmingly they reported that it wasn't a big deal, that they didn't feel they needed them. That, sure, they would love to have them, but that they were not missing out on any educational opportunity in their eyes. I am not saying that phones can't be used for amazing things, but in this case, the students didn't see that. In fact, it was interesting to see how many students who did want their phones also reported that they would only use them for Instagram, Snapchat, and texting if they had them, nothing else. A few reported wanting to use them as calculators or to search up words. Not exactly deep reasons to bring them back as we can do all that with other tools provided for us.
Many students reported that not having their phones caused them to speak more to their friends. That while they missed out on some conversations that would take place on social media they were more likely to have more conversations with those around them. One student wrote, "I honestly enjoy it because it annoys me how often people (or my friends) are distracted by social media. I know social media is for "Socializing", but you have people around you to socialize with. Even if you are not on social media and playing games instead, it still frustrates me."
Another point often brought up is that we should be teaching students how to use their phones well. that much like all of the other tools the world has introduced us to, phones should now be a part of the school experience so that kids can use them well. I am not sure about this point. While I agree that as educators we adapt our curriculum to face the modern construct, I wonder whether the responsibility of teaching students how to use their phone well should fall on us? Should that not fall on those who provide the tool? That doesn't mean that it can't be supplemented in school, but I am not sure the main responsibility starts with us. And what is it exactly we can only do on phones that we cannot do with a Chromebook or iPad? A few things come to mind, and perhaps I simply don't know enough about the amazing things phones are being used for, but I am not sure it is enough to warrant the blanket blessing of phones without thinking about the potential for increased anxiety, bullying, and overall distractibility that these powerful computers can also bring with them, even for the adults.
As I scanned through all of their responses, what really stood out to me was one common thread; that they wish they could have their phones in case "something bad happened." That a major reason for why they wish to have their phones is in case of an emergency. Think about that for a moment. Our students don't always feel safe at school, perhaps now more than ever, and so they see their phones as a lifeline to get help. It shook me to the core, because of course, I feel the same way; I need my phone in case something bad happens, but to hear it repeated again and again from 7th graders was startling.
And so we will continue to be cell-phone free for now. We will continue to ask students to leave them in their lockers so that we can be together. I will continue to leave my phone in my bag unless I need it for a specific purpose. To be more present, to think of the technology opportunities kids do have in order for us to connect, to become more than we were. Does this mean that phones in schools are bad or should never be there? No, it just means that for us, the learning experience we have right now, it makes sense to be cell phone free. That we have seen less phone-related anxiety and stress. We have seen less drama due to kids being filmed or ridiculed when they should have been safe in our classrooms. That we have been more thoughtful when we did bring out devices.
I share this in order to start a conversation, to perhaps plant a seed for others to explore within their own learning communities. Not to dismiss the power of technology, nor the power of what can happen when we connect with others. But as someone who knows the anxiety that a phone can produce, who is "one of those parents" that is holding off on getting a phone for her own kids, I think it is valid to have these discussions. That often in our eagerness to embrace technology, we forget about the mental health impact more technology and how it is used can have. That sometimes when we bring in more devices it traps our students rather than frees them, and that is not something to easily dismiss. I would love to hear your thoughts.
If you like what you read here, consider reading my newest book, Passionate Readers – The Art of Reaching and Engaging Every Child. This book focuses on the five keys we can implement into any reading community to strengthen student reading experiences, even within the 45 minute English block. If you are looking for solutions and ideas for how to re-engage all of your students consider reading my very first book Passionate Learners – How to Engage and Empower Your Students. Also, if you are wondering where I will be in the coming year or would like to have me speak, please see this page.