Monday marks another anniversary of 9/11, a tragic day in American history.  As I prepare my lesson for Monday, I am so thankful to the authors that have made it easier for us to discuss the events of 9/11 with our students through the books they write.  I thought it would be nice to have a resource here, in case you need a few book ideas for your library.
Picture Books:
Fireboat: The Heroic Adventures of the John J. Harvey by Maira Kalman was new to me this year.  A mighty little story indeed.
From Goodreads:
This is the inspiring true story of the John J. Harvey—a retired New York City fireboat reinstated on September 11, 2001. Originally launched in 1931, the Harvey was the most powerful fireboat of her time. After the September 11 attacks, with fire hydrants at Ground Zero inoperable and the Hudson River's water supply critical to fighting the blaze, the fire department called on the Harvey for help. There were adjustments—forcing water into hoses by jamming soda bottles and wood into nozzles with a sledgehammer—and then the fireboat's volunteer crew pumped much-needed water to the disaster site. The John J. Harvey proved she was still one of New York's Bravest!
I have read aloud The Man Who Walked Between the Towers by Mordecai Gerstein the last three years.  It is a powerful reminder of what there was and now what there isn't.
From Goodreads:
In 1974, French aerialist Philippe Petit threw a tightrope between the two towers of the World Trade Center and spent an hour walking, dancing, and performing high-wire tricks a quarter mile in the sky. This picture book captures the poetry and magic of the event with a poetry of its own: lyrical words and lovely paintings that present the detail, daring, and–in two dramatic foldout spreads– the vertiginous drama of Petit's feat.
I added 14 Cows for America by Carmen Agra Deedy and Wilson Kimeli Naiyomah to our library last year.  It is a powerful story that deserves to be read aloud any time of year, not just in honor of 9/11.
From Goodreads:
In June of 2002, a very unusual ceremony begins in a far-flung village in western Kenya. An American diplomat is surrounded by hundreds of Maasai people. A gift is about to be bestowed upon the American men, women, and children, and he is there to accept it. The gift is as unexpected as it is extraordinary.
A mere nine months have passed since the September 11 attacks, and hearts are raw. Tears flow freely from American and Maasai as these legendary warriors offer their gift to a grieving people half a world away.
Word of the gift will travel newswires around the globe. Many will be profoundly touched, but for Americans, this selfless gesture will have deeper meaning still. For a heartsick nation, the gift of fourteen cows emerges from the choking dust and darkness as a soft light of hope and friendship.
I do not own The Little Chapel that Stood by A.B. Curtis myself as I have yet to find a copy in my price range, but I hope to one day have it in our library.
From Goodreads:
The beautifully illustrated book tells of the historic chapel less than 100 yards from the Twin Towers that miraculously survived on 9-11. Firemen hung their shoes on the fence and raced to help the people in the towers: Oh what gallant men did we lose/Who never came back to get their shoes. The story of terror overcome by courage and bravery that teaches us no one is too small to make a difference.
The Man in the Red Bandana by Honor Crowther Fagan and illustrated by John Crowther is the picture book I will read aloud this year.
From Goodreads:
When Welles Crowther was a young boy, his father gave him a red bandanna, which he always carried with him. On September 11, 2001, Welles Remy Crowther saved numerous people from the upper floors of the World Trade Center South Tower. "The Man in the Red Bandanna" recounts and celebrates his heroism on that day. Welles' story carries an inspirational message that will resonate with adults as well as young children.
Published last year, Seven and a Half Tons of Steel by Janet Nolan and illustrated by Thomas Gonzalez is another remarkable picture book of resilience and what can come from a tragedy.
From Goodreads:
There is a ship, a navy ship. It is called the USS New York. It is big like other navy ships, and it sails like other navy ships, but there is something special about the USS New York. Following the events of September 11, 2001, the governor of New York gave the Navy a steel beam that was once inside one of the World Trade Towers. The beam was driven from New York to a foundry in Louisiana. Metal workers heated the beam to a high, high temperature. Chippers and grinders, painters and polishers worked on the beam for months. And then, seven and a half tons of steel, which had once been a beam in the World Trade Center, became a navy ship's bow. This powerful story reveals how something remarkable can emerge from a devastating event.
Chapter Books:
Nine, Ten: A September 11 Story by Nora Raleigh Baskin is a wonderful middle-grade book that shares the experience of 9/11 from four different perspectives around the country.
From Goodreads:
Ask anyone: September 11, 2001, was serene and lovely, a perfect day—until a plane struck the World Trade Center.
But right now it is a few days earlier, and four kids in different parts of the country are going about their lives. Sergio, who lives in Brooklyn, is struggling to come to terms with the absentee father he hates and the grandmother he loves. Will's father is gone, too, killed in a car accident that has left the family reeling. Naheed has never before felt uncomfortable about being Muslim, but at her new school she's getting funny looks because of the head scarf she wears. Aimee is starting a new school in a new city and missing her mom, who has to fly to New York on business.
These four don't know one another, but their lives are about to intersect in ways they never could have imagined. Award-winning author Nora Raleigh Baskin weaves together their stories into an unforgettable novel about that seemingly perfect September day—the day our world changed forever.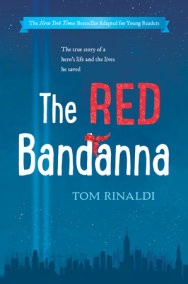 The Red Bandana by Tom Rinaldi is the young reader's edition of the same adult book.  It is quite a remarkable read of one man's courage and ultimate sacrifice on 9/11.
From Goodreads:
On a day that changed a nation, one young man found his calling.

Welles Crowther didn't see himself as a hero. He was just an ordinary kid who played sports, volunteered for the fire department in his town, and eventually headed off to college and then to Wall Street to start a career. Throughout it all, he always kept a red bandanna in his pocket, a gift from his father when he was little.
On September 11, 2001, Welles was at his job on the 104th floor of the South Tower of the World Trade Center when the Twin Towers were attacked. What he did next would alter the course of many lives.
That day, the legend of the Man in the Red Bandanna was born.
I do so appreciate the 10 True Tales series and how they added Heroes of 9/11 by Allan Zullo to their collection.
From Goodreads:
When Captain Jay Jonas of the Fire Department of New York hears an emergency radio message about the World Trade Center, he has no idea of the terrible conditions he and his team will face. Arriving at the burning building, the firefighters must summon all their courage. On the same morning, just outside Washington, D.C., a jetliner piloted by terrorists slams into the Pentagon. Can Colonel Philip McNair save lives inside the flaming building?
Lauren Tarshis does another great job with her research and storytelling in I Survived the Attacks of September 11, 2001.
From Goodreads:
The only thing Lucas loves more than football is his Uncle Benny, his dad's best friend at the fire department where they both work. Benny taught Lucas everything about football. So when Lucas's parents decide the sport is too dangerous and he needs to quit, Lucas has to talk to his biggest fan.
So the next morning, Lucas takes the train to the city instead of the bus to school. It's a bright, beautiful day in New York. But just as Lucas arrives at his uncle's firehouse, everything changes — and nothing will ever be the same again.
Again geared toward a younger audience, America is Under Attack by Don Brown does a marvelous job of explaining everything in a kid understandable way all in the span of 64 pages.
From Goodreads:
On the ten year anniversary of the September 11 tragedy, a straightforward and sensitive book for a generation of readers too young to remember that terrible day.
The events of September 11, 2001 changed the world forever. In the fourth installment of the Actual Times series, Don Brown narrates the events of the day in a way that is both accessible and understandable for young readers. Straightforward and honest, this account moves chronologically through the morning, from the terrorist plane hijackings to the crashes at the World Trade Center, the Pentagon, and Pennsylvania; from the rescue operations at the WTC site in New York City to the collapse of the buildings. Vivid watercolor illustrations capture the emotion and pathos of the tragedy making this an important book about an unforgettable day in American history.
Geared toward middle school and up, The Memory of Things by Gae Polisner is unlike any 9/11 book I have read.  Part mystery and gripping tale, this story leaves you wanting more until the last page.
From Goodreads:
On the morning of September 11, 2001, sixteen-year-old Kyle Donohue watches the first twin tower come down from the window of Stuyvesant High School. Moments later, terrified and fleeing home to safety across the Brooklyn Bridge, he stumbles across a girl perched in the shadows, covered in ash, and wearing a pair of costume wings. With his mother and sister in California and unable to reach his father, a NYC detective likely on his way to the disaster, Kyle makes the split-second decision to bring the girl home. What follows is their story, told in alternating points of view, as Kyle tries to unravel the mystery of the girl so he can return her to her family. But what if the girl has forgotten everything, even her own name? And what if the more Kyle gets to know her, the less he wants her to go home?
Tom Roger's book Eleven is my favorite 9/11 book, which is a weird thing to say.  The story just works so well, leaving your heart in a tight vise until the very last page.  This is also a very powerful read aloud for middle grade and middle school.
From Goodreads:
Alex Douglas always wanted to be a hero. But nothing heroic ever happened to Alex. Nothing, that is, until his eleventh birthday. When Alex rescues a stray dog as a birthday gift to himself, he doesn't think his life can get much better. Radar, his new dog, pretty much feels the same way. But this day has bigger things in store for both of them.
This is a story about bullies and heroes. About tragedy and hope. About enemies with two legs and friends with four, and pesky little sisters and cranky old men, and an unexpected lesson in kindness delivered with a slice of pizza. This is Eleven: the journey of a boy turning eleven on 9/11.
Told in the present time Towers Falling by Jewell Parker Rhodes not only speaks of 9/11 but of family, of trauma, of hope.
From Goodreads:
When her fifth-grade teacher hints that a series of lessons about home and community will culminate with one big answer about two tall towers once visible outside their classroom window, Dèja can't help but feel confused. She sets off on a journey of discovery, with new friends Ben and Sabeen by her side. But just as she gets closer to answering big questions about who she is, what America means, and how communities can grow (and heal), she uncovers new questions, too. Like, why does Pop get so angry when she brings up anything about the towers?
With Their Eyes edited by Annie Thoms is an essay collection by high school students at Stuyvesant High School who witnessed the attack firsthand.
From Goodreads:
Tuesday, September 11, started off like any other day at Stuyvesant High School, located only a few blocks away from the World Trade Center.
The semester was just beginning, and the students, faculty, and staff were ready to start a new year. But within a few hours on that Tuesday morning, they would share an experience that would transform their lives—and the lives of all Americans.
These powerful essays by the students of Stuyvesant High School remember those who were lost and those who were forced to witness this tragedy. Here, in their own words, are the firsthand stories of a day we will never forget.
I just ordered the 9/11 Report – the Graphic Adaptation for my own reading.  Created with the desire to have more people understand what the findings were of the report, this book is sure to keep older readers interested.
From Goodreads:
On December 5, 2005, the 9/11 Commission issued its final report card on the government's fulfillment of the recommendations issued in July 2004: one A, twelve Bs, nine Cs, twelve Ds, three Fs, and four incompletes. Here is stunning evidence that Sid Jacobson and Ernie Colón, with more than sixty years of experience in the comic-book industry between them, were right: far, far too few Americans have read, grasped, and demanded action on the Commission's investigation into the events of that tragic day and the lessons America must learn.
Using every skill and storytelling method Jacobson and Colón have learned over the decades, they have produced the most accessible version of the 9/11 Report. Jacobson's text frequently follows word for word the original report, faithfully captures its investigative thoroughness and covers its entire scope, even including the Commission's final report card. Colón's stunning artwork powerfully conveys the facts, insights, and urgency of the original. Published on the fifth anniversary of the terrorist attacks on the United States, an event that has left no aspect of American foreign or domestic policy untouched, The 9/11 Report puts at every American's fingertips the most defining event of the century.
I know I have missed some.  Which other books are out there to help us teach 9/11?
PS:  To see all of our favorite books, go here.