Hard to believe that it is April 1st as I sit in South Korea writing this.  The past few days I have been in Bangkok speaking but also exploring and of course, sneaking in a few reading moments here and there.  As April begins, the first quarter of the year is done and with it comes some excellent reads.  Why not share them here in case you need some inspiration?
Favorite Middle Grade and Younger
The Prince and the Dressmaker by Jen Wang is one of my favorite new graphic novels for the year.
From Goodreads:
Paris, at the dawn of the modern age:
Prince Sebastian is looking for a bride―or rather, his parents are looking for one for him. Sebastian is too busy hiding his secret life from everyone. At night he puts on daring dresses and takes Paris by storm as the fabulous Lady Crystallia―the hottest fashion icon in the world capital of fashion!
Sebastian's secret weapon (and best friend) is the brilliant dressmaker Frances―one of only two people who know the truth: sometimes this boy wears dresses. But Frances dreams of greatness, and being someone's secret weapon means being a secret. Forever. How long can Frances defer her dreams to protect a friend?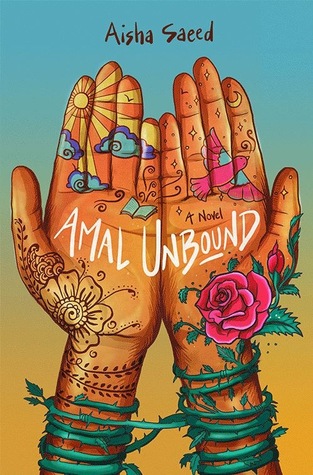 Amal Unbound by Aisha Saeed was just chosen as the Global Read Aloud choice for Middle grade despite it not being released until May, that is how much I believe in this book.
From Goodreads:
Life is quiet and ordinary in Amal's Pakistani village, but she had no complaints, and besides, she's busy pursuing her dream of becoming a teacher one day. Her dreams are temporarily dashed when–as the eldest daughter–she must stay home from school to take care of her siblings. Amal is upset, but she doesn't lose hope and finds ways to continue learning. Then the unimaginable happens–after an accidental run-in with the son of her village's corrupt landlord, Amal must work as his family's servant to pay off her own family's debt.
Life at the opulent Khan estate is full of heartbreak and struggle for Amal–especially when she inadvertently makes an enemy of a girl named Nabila. Most troubling, though, is Amal's growing awareness of the Khans' nefarious dealings. When it becomes clear just how far they will go to protect their interests, Amal realizes she will have to find a way to work with others if they are ever to exact change in a cruel status quo, and if Amal is ever to achieve her dreams.
The Wild Robot Escapes by Peter Brown is one of the most perfectly written sequels I have read in a long time.
From Goodreads:
Shipwrecked on a remote, wild island, Robot Roz learned from the unwelcoming animal inhabitants and adapted to her surroundings–but can she survive the challenges of the civilized world and find her way home to Brightbill and the island?
I wanted to love Rebound by Kwame Alexander so much and it turns out it was easy to do.  A wonderful prequel to The Crossover that will hook many readers.
From Goodreads:
Before Josh and Jordan Bell were streaking up and down the court, their father was learning his own moves. In this prequel to Newbery Medal winner The Crossover, Chuck Bell takes center stage, as readers get a glimpse of his childhood and how he became the jazz music worshipping, basketball star his sons look up to.
The Night Diary by Veera Hiranandani was a GRA contender for 2018 and rightfully so.  Set in India during the partition this book left me captured throughout its journey.
From Goodreads:
It's 1947, and India, newly independent of British rule, has been separated into two countries: Pakistan and India. The divide has created much tension between Hindus and Muslims, and hundreds of thousands are killed crossing borders.
Half-Muslim, half-Hindu twelve-year-old Nisha doesn't know where she belongs, or what her country is anymore. When Papa decides it's too dangerous to stay in what is now Pakistan, Nisha and her family become refugees and embark first by train but later on foot to reach her new home. The journey is long, difficult, and dangerous, and after losing her mother as a baby, Nisha can't imagine losing her homeland, too. But even if her country has been ripped apart, Nisha still believes in the possibility of putting herself back together.
While I will admit to being more of a cat person than a dog person, Sarah Albee's newest book Dog Days of History almost convinced me to rethink my allegiance.
From Goodreads:
What is it we love about dogs so much? From ancient times to the present, dogs have guarded us, worked with us, marched off to war with us, and of course, just sat on the couch with us for a cuddle. Throughout the course of human history, this partnership deepened from dogs doing a service into friendship. Dogs have been by our side through it all, and this book tracks our common story from wild wolves in ancient civilizations to modern-day breeds, highlighting famous pooches of the past and present along the way.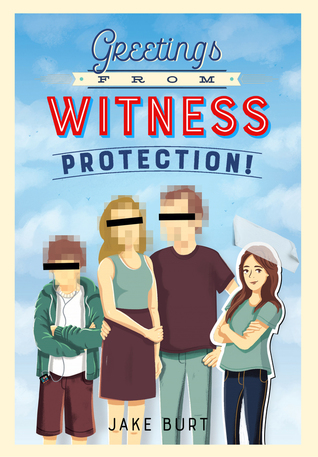 Serious, yet funny at the same time Greetings From Witness Protection by Jake Burt was an easy story to like and recommend.
From Goodreads:
Nicki Demere is an orphan and a pickpocket. She also happens to be the U.S. Marshals' best bet to keep a family alive. . . .
The marshals are looking for the perfect girl to join a mother, father, and son on the run from the nation's most notorious criminals. After all, the bad guys are searching for a family with one kid, not two, and adding a streetwise girl who knows a little something about hiding things may be just what the marshals need.
Nicki swears she can keep the Trevor family safe, but to do so she'll have to dodge hitmen, cyberbullies, and the specter of standardized testing, all while maintaining her marshal-mandated B-minus average. As she barely balances the responsibilities of her new identity, Nicki learns that the biggest threats to her family's security might not lurk on the road from New York to North Carolina, but rather in her own past.
Jewell Parker Rhodes' Ghost Boys is a must read, must contemplate, must share.
From Goodreads:
Twelve-year-old Jerome is shot by a police officer who mistakes his toy gun for a real threat. As a ghost, he observes the devastation that's been unleashed on his family and community in the wake of what they see as an unjust and brutal killing.
Soon Jerome meets another ghost: Emmett Till, a boy from a very different time but similar circumstances. Emmett helps Jerome process what has happened, on a journey towards recognizing how historical racism may have led to the events that ended his life. Jerome also meets Sarah, the daughter of the police officer, who grapples with her father's actions.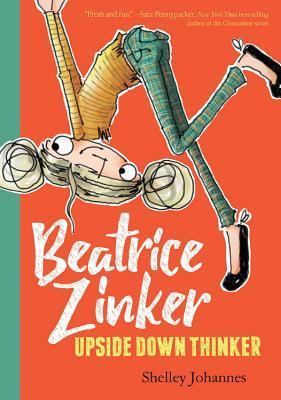 For earlier readers, Beatrice Zinker, Upside Down Thinker by Shelley Johannes is a sure winner featuring a character that sees the world just a little bit different.
From Goodreads:
Hanging from trees by her knees, doing handstands . . . for Beatrice Zinker, upside down works every time. She was definitely upside down when she and her best friend, Lenny, agreed to wear matching ninja suits on the first day of third grade. But when Beatrice shows up at school dressed in black, Lenny arrives with a cool new outfit and a cool new friend. Even worse, she seems to have forgotten all about the top-secret operation they planned!
Favorite Young Adult
Children of Blood and Bone by Tomi Adeyemi is a must read; fantastic world building and narrative action that leaves you begging for the second book to come out soon!
From Goodreads:
They killed my mother.
They took our magic.
They tried to bury us.
Now we rise.
Zélie Adebola remembers when the soil of Orïsha hummed with magic. Burners ignited flames, Tiders beckoned waves, and Zélie's Reaper mother summoned forth souls.
But everything changed the night magic disappeared. Under the orders of a ruthless king, maji were killed, leaving Zélie without a mother and her people without hope.
Now Zélie has one chance to bring back magic and strike against the monarchy. With the help of a rogue princess, Zélie must outwit and outrun the crown prince, who is hell-bent on eradicating magic for good.
Danger lurks in Orïsha, where snow leoponaires prowl and vengeful spirits wait in the waters. Yet the greatest danger may be Zélie herself as she struggles to control her powers and her growing feelings for an enemy.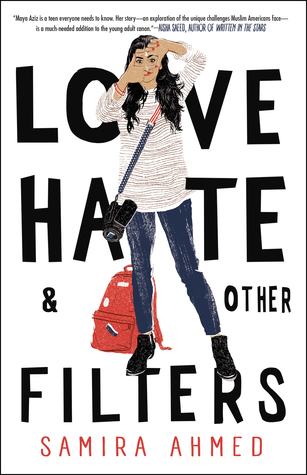 Love, Hate, and Other Filters by Samira Ahmed was just chosen as the Global Read Aloud book for YA – enough said.
From Goodreads:
American-born seventeen-year-old Maya Aziz is torn between worlds. There's the proper one her parents expect for their good Indian daughter: attending a college close to their suburban Chicago home, and being paired off with an older Muslim boy her mom deems "suitable." And then there is the world of her dreams: going to film school and living in New York City—and maybe (just maybe) pursuing a boy she's known from afar since grade school, a boy who's finally falling into her orbit at school.
There's also the real world, beyond Maya's control. In the aftermath of a horrific crime perpetrated hundreds of miles away, her life is turned upside down. The community she's known since birth becomes unrecognizable; neighbors and classmates alike are consumed with fear, bigotry, and hatred. Ultimately, Maya must find the strength within to determine where she truly belongs.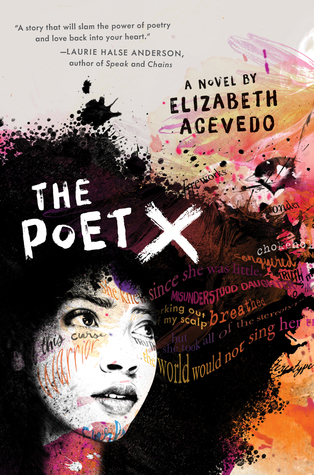 Reminding me in all of the best ways of Piecing Me Together by Rene Watson, The Poet X by Elizabeth Acevedo is a beautiful consideration of what it means to be a female growing into her own skin.
From Goodreads:
Xiomara Batista feels unheard and unable to hide in her Harlem neighborhood. Ever since her body grew into curves, she has learned to let her fists and her fierceness do the talking.
But Xiomara has plenty she wants to say, and she pours all her frustration and passion onto the pages of a leather notebook, reciting the words to herself like prayers—especially after she catches feelings for a boy in her bio class named Aman, who her family can never know about. With Mami's determination to force her daughter to obey the laws of the church, Xiomara understands that her thoughts are best kept to herself.
So when she is invited to join her school's slam poetry club, she doesn't know how she could ever attend without her mami finding out, much less speak her words out loud. But still, she can't stop thinking about performing her poems.
Because in the face of a world that may not want to hear her, Xiomara refuses to be silent.
One of Us is Lying by Karen M. McManus has shifted from the hands of one student to the next since I booktalked it more than a month ago. It is one of the most requested books in our classrooms.
From Goodreads:
Pay close attention and you might solve this.
On Monday afternoon, five students at Bayview High walk into detention.
Bronwyn, the brain, is Yale-bound and never breaks a rule.
Addy, the beauty, is the picture-perfect homecoming princess.
Nate, the criminal, is already on probation for dealing.
Cooper, the athlete, is the all-star baseball pitcher.
And Simon, the outcast, is the creator of Bayview High's notorious gossip app.
Only, Simon never makes it out of that classroom. Before the end of detention, Simon's dead. And according to investigators, his death wasn't an accident. On Monday, he died. But on Tuesday, he'd planned to post juicy reveals about all four of his high-profile classmates, which makes all four of them suspects in his murder. Or are they the perfect patsies for a killer who's still on the loose?
Everyone has secrets, right? What really matters is how far you would go to protect them."
While technically Dread Nation by Justina Ireland is not out yet, it will be in just a few weeks and it is so worth your pre-ordering.  Zombies, history, social justice and a radical butt-kicking female lead character, yes please.
From Goodreads:
Jane McKeene was born two days before the dead began to walk the battlefields of Gettysburg and Chancellorsville—derailing the War Between the States and changing America forever. In this new nation, safety for all depends on the work of a few, and laws like the Native and Negro Reeducation Act require certain children attend combat schools to learn to put down the dead. But there are also opportunities—and Jane is studying to become an Attendant, trained in both weaponry and etiquette to protect the well-to-do. It's a chance for a better life for Negro girls like Jane. After all, not even being the daughter of a wealthy white Southern woman could save her from society's expectations.
But that's not a life Jane wants. Almost finished with her education at Miss Preston's School of Combat in Baltimore, Jane is set on returning to her Kentucky home and doesn't pay much mind to the politics of the eastern cities, with their talk of returning America to the glory of its days before the dead rose. But when families around Baltimore County begin to go missing, Jane is caught in the middle of a conspiracy, one that finds her in a desperate fight for her life against some powerful enemies. And the restless dead, it would seem, are the least of her problems.
You Bring the Distant Near by Mitali Perkins is a book that deserves to be read and shared with others.  An intricate weaving of family and how we grow apart to only grow together.
From Goodreads:
Five girls. Three generations. One great American love story. You Bring the Distant Near explores sisterhood, first loves, friendship, and the inheritance of culture–for better or worse. Ranee, worried that her children are losing their Indian culture; Sonia, wrapped up in a forbidden biracial love affair; Tara, seeking the limelight to hide her true self; Shanti, desperately trying to make peace in the family; Anna, fighting to preserve her Bengali identity–award-winning author Mitali Perkins weaves together a sweeping story of five women at once intimately relatable and yet entirely new.
Both heartwrenching and heartstopping Girl Made of Stars by Ashley Herring Blake was thought-provoking and also, unfortunately, incredibly timely in our culture.
From Goodreads:
"I need Owen to explain this. Because yes, I do know that Owen would never do that, but I also know Hannah would never lie about something like that."
Mara and Owen are about as close as twins can get. So when Mara's friend Hannah accuses Owen of rape, Mara doesn't know what to think. Can the brother she loves really be guilty of such a violent crime? Torn between the family she loves and her own sense of right and wrong, Mara is feeling lost, and it doesn't help that things have been strained with her ex and best friend since childhood, Charlie.
As Mara, Hannah, and Charlie navigate this new terrain, Mara must face a trauma from her own past and decide where Charlie fits in her future.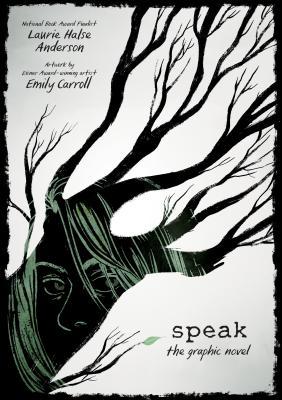 Who would have thought that Speak by Laurie Halse Anderson could be even better, it turns out that the graphic novel took it to another soaring height.
From Goodreads:
From the first moment of her freshman year at Merryweather High, Melinda knows this is a big fat lie, part of the nonsense of high school. She is friendless–an outcast–because she busted an end-of-summer party by calling the cops, so now nobody will talk to her, let alone listen to her. Through her work on an art project, she is finally able to face what really happened that night: She was raped by an upperclassman, a guy who still attends Merryweather and is still a threat to her.
Not sure whether to categorize Mary's Monster by Lita Judge as YA, but it is gorgeous and also making its rounds quickly through the reading lives of our students.
From Goodreads:
Mary Shelley first began penning Frankenstein as part of a dare to write a ghost story, but the seeds of that story were planted long before that night. Mary, just nineteen years old at the time, had been living on her own for three years and had already lost a baby days after birth. She was deeply in love with famed poet Percy Bysshe Shelley, a mad man who both enthralled and terrified her, and her relationship with him was rife with scandal and ridicule. But rather than let it crush her, Mary fueled her grief, pain, and passion into a book that the world has still not forgotten 200 years later.
We live in a time where it seems the books being published just get better and better, and I cannot wait to see what the next quarter of the year will bring.  Happy reading to all!