We kicked off our dystopian book clubs this week and the students are pretty excited.  This genre of books is my favorite, and the favorites of many students, and yet there are also some who have never experienced it.  For the past month, we have been actively searching for the titles we would offer up to kids, needing as many perspectives as we could find, as well as text challenges.   One thing we ran into early on was the seemingly lack of inclusive dystopian science fiction, not because it is isn't out there but because on list after list it didn't seem to be highlighted.   So this list is our starting point, we will be continuing our curating of finding more inclusive books that are not centered around a white main character.   And if you have suggestions, please share them in the comments!  (And yes, some of these are borderline dystopian, but we are navigating that with the students).
The Marrow Thieves by Cherie Dimaline (Author)
Humanity has nearly destroyed its world through global warming, but now an even greater evil lurks. The indigenous people of North America are being hunted and harvested for their bone marrow, which carries the key to recovering something the rest of the population has lost: the ability to dream. In this dark world, Frenchie and his companions struggle to survive as they make their way up north to the old lands. For now, survival means staying hidden—but what they don't know is that one of them holds the secret to defeating the marrow thieves.
The Interrogation of Ashala Wolf by Ambelin Kwaymullina
They're known as Firestarters. Boomers. Skychangers. The government calls them Illegals — children with inexplicable abilities — and detains them in menacing facilities so that society is kept out of harm's way. Ashala Wolf and her Tribe of fellow Illegals have taken refuge in the Firstwood, a forest eerily conscious of its inhabitants, where they do their best to survive and where they are free to practice their abilities. But when Ashala is compelled to venture outside her territory, she is betrayed by a friend and captured by an enemy. Injured and vulnerable, with her own Sleepwalker ability blocked, Ashala is forced to succumb to a machine that will pull secrets from her mind. It's only a matter of time before the machine ferrets out the location of the Tribe. Her betrayer, Justin Connor, is ever-present, saving her life when she wishes to die and watching her every move. Will the Tribe survive the interrogation of Ashala Wolf?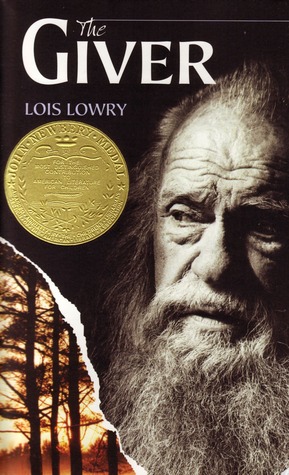 The Giver, the 1994 Newbery Medal winner, has become one of the most influential novels of our time. The haunting story centers on twelve-year-old Jonas, who lives in a seemingly ideal, if colorless, world of conformity and contentment. Not until he is given his life assignment as the Receiver of Memory does he begin to understand the dark, complex secrets behind his fragile community
In the year 2044, reality is an ugly place. The only time teenage Wade Watts really feels alive is when he's jacked into the virtual utopia known as the OASIS. Wade's devoted his life to studying the puzzles hidden within this world's digital confines—puzzles that are based on their creator's obsession with the pop culture of decades past and that promise massive power and fortune to whoever can unlock them.
But when Wade stumbles upon the first clue, he finds himself beset by players willing to kill to take this ultimate prize. The race is on, and if Wade's going to survive, he'll have to win—and confront the real world he's always been so desperate to escape.
One choice can transform you. Beatrice Prior's society is divided into five factions—Candor (the honest), Abnegation (the selfless), Dauntless (the brave), Amity (the peaceful), and Erudite (the intelligent). Beatrice must choose between staying with her Abnegation family and transferring factions. Her choice will shock her community and herself. But the newly christened Tris also has a secret, one she's determined to keep hidden, because in this world, what makes you different makes you dangerous.
MiNRS by Kevin Sylvester – 3rd year on this list!
A boy and his friends must find a way to survive in the mining tunnels after their new space colony is attacked in this gritty action-adventure novel, which School Library Journal called "a solid survival story."
In space. Underground. And out of time.
Christopher Nichols and his family live on a new planet, Perses, as colonists of Melming Mining's Great Mission to save the earth. Dozens of families like Christopher's have relocated, too, like his best friend Elena Rosales.
A communications blackout with Earth hits, and all of Perses is on its own for three months. It's okay, though, because the colonists have prepared, stockpiling food and resources to survive. But they never prepared for an attack.
Landers, as the attackers are called, obliterate the colony to steal the metal and raw ore. Now in a race against time, Christopher, along with a small group of survivors, are forced into the maze of mining tunnels. The kids run. They hide. But can they survive?
A world with no hunger, no disease, no war, no misery: humanity has conquered all those things, and has even conquered death. Now Scythes are the only ones who can end life—and they are commanded to do so, in order to keep the size of the population under control.
Citra and Rowan are chosen to apprentice to a scythe—a role that neither wants. These teens must master the "art" of taking life, knowing that the consequence of failure could mean losing their own.
Cassia has always trusted the Society to make the right choices for her: what to read, what to watch, what to believe. So when Xander's face appears on-screen at her Matching ceremony, Cassia knows he is her ideal mate . . . until she sees Ky Markham's face flash for an instant before the screen fades to black. The Society tells her it's a glitch, a rare malfunction, and that she should focus on the happy life she's destined to lead with Xander. But Cassia can't stop thinking about Ky, and as they slowly fall in love, Cassia begins to doubt the Society's infallibility and is faced with an impossible choice: between Xander and Ky, between the only life she's known and a path that no one else has dared to follow.
What was once the western United States is now home to the Republic, a nation perpetually at war with its neighbors. Born into an elite family in one of the Republic's wealthiest districts, fifteen-year-old June is a prodigy being groomed for success in the Republic's highest military circles. Born into the slums, fifteen-year-old Day is the country's most wanted criminal. But his motives may not be as malicious as they seem.
From very different worlds, June and Day have no reason to cross paths – until the day June's brother, Metias, is murdered and Day becomes the prime suspect. Caught in the ultimate game of cat and mouse, Day is in a race for his family's survival, while June seeks to avenge Metias's death. But in a shocking turn of events, the two uncover the truth of what has really brought them together, and the sinister lengths their country will go to keep its secrets.
Humans and androids crowd the raucous streets of New Beijing. A deadly plague ravages the population. From space, a ruthless lunar people watch, waiting to make their move. No one knows that Earth's fate hinges on one girl. . . .
Cinder, a gifted mechanic, is a cyborg. She's a second-class citizen with a mysterious past, reviled by her stepmother and blamed for her stepsister's illness. But when her life becomes intertwined with the handsome Prince Kai's, she suddenly finds herself at the center of an intergalactic struggle, and a forbidden attraction. Caught between duty and freedom, loyalty and betrayal, she must uncover secrets about her past in order to protect her world's future.
Among the Hidden by Margaret Peterson Haddix
In a future where the Population Police enforce the law limiting a family to only two children, Luke, an illegal third child, has lived all his twelve years in isolation and fear on his family's farm in this start to the Shadow Children series from Margaret Peterson Haddix.
Luke has never been to school. He's never had a birthday party, or gone to a friend's house for an overnight. In fact, Luke has never had a friend.
Luke is one of the shadow children, a third child forbidden by the Population Police. He's lived his entire life in hiding, and now, with a new housing development replacing the woods next to his family's farm, he is no longer even allowed to go outside.
Then, one day Luke sees a girl's face in the window of a house where he knows two other children already live. Finally, he's met a shadow child like himself. Jen is willing to risk everything to come out of the shadows — does Luke dare to become involved in her dangerous plan? Can he afford not to?
The Hunger Games by Suzanne Collins
In the ruins of a place once known as North America lies the nation of Panem, a shining Capitol surrounded by twelve outlying districts. Long ago the districts waged war on the Capitol and were defeated. As part of the surrender terms, each district agreed to send one boy and one girl to appear in an annual televised event called, "The Hunger Games," a fight to the death on live TV. Sixteen-year-old Katniss Everdeen, who lives alone with her mother and younger sister, regards it as a death sentence when she is forced to represent her district in the Games. The terrain, rules, and level of audience participation may change but one thing is constant: kill or be killed.
The Maze Runner by James Dashner
From Amazon:
If you ain't scared, you ain't human.
 
When Thomas wakes up in the lift, the only thing he can remember is his name. He's surrounded by strangers—boys whose memories are also gone.
 
Nice to meet ya, shank. Welcome to the Glade.
 
Outside the towering stone walls that surround the Glade is a limitless, ever-changing maze. It's the only way out—and no one's ever made it through alive.
 
Everything is going to change.
 
Then a girl arrives. The first girl ever. And the message she delivers is terrifying.
 
Remember. Survive. Run.
The City of Ember by Jeanne DuPrau
The city of Ember was built as a last refuge for the human race. Two hundred years later, the great lamps that light the city are beginning to flicker. When Lina finds part of an ancient message, she's sure it holds a secret that will save the city. She and her friend Doon must race to figure out the clues before the lights go out on Ember forever!
Twelve-year-old Petrel is an outcast, living on an ancient icebreaker that has been following the same ocean course for three hundred years. The ship's crew has forgotten its original purpose and has broken into three warring tribes. Everyone has a tribe except Petrel, whose parents were thrown overboard for alleged crimes. She has survived by living in the dark corners of the ship, and speaking to no one except two large rats, Mister Smoke and Mrs. Slink.
When a boy is discovered on a frozen iceberg, the crew is immediately on alert. Petrel hides him on board, hoping he'll be her friend. What she doesn't know is that the ship guards a secret, held down deep in its belly, and the boy has been sent to seek and destroy it.
Imposters by Scott Westerfield
Frey and Rafi are inseparable . . . two edges of the same knife. But Frey's very existence is a secret.
Frey is Rafi's twin sister—and her body double. Their powerful father has many enemies, and the world has grown dangerous as the old order falls apart. So while Rafi was raised to be the perfect daughter, Frey has been taught to kill. Her only purpose is to protect her sister, to sacrifice herself for Rafi if she must.
When her father sends Frey in Rafi's place as collateral in a precarious deal, she becomes the perfect impostor—as poised and charming as her sister. But Col, the son of a rival leader, is getting close enough to spot the killer inside her. As the deal starts to crumble, Frey must decide if she can trust him with the truth . . . and if she can risk becoming her own person.
Life as We Knew It by Susan Beth Pfeffer
I guess I always felt even if the world came to an end, McDonald's still would be open.
High school sophomore Miranda's disbelief turns to fear in a split second when an asteroid knocks the moon closer to Earth, like "one marble hits another." The result is catastrophic. How can her family prepare for the future when worldwide tsunamis are wiping out the coasts, earthquakes are rocking the continents, and volcanic ash is blocking out the sun? As August turns dark and wintery in northeastern Pennsylvania, Miranda, her two brothers, and their mother retreat to the unexpected safe haven of their sunroom, where they subsist on stockpiled food and limited water in the warmth of a wood-burning stove.
Told in a year's worth of journal entries, this heart-pounding story chronicles Miranda's struggle to hold on to the most important resource of all—hope—in an increasingly desperate and unfamiliar world. An extraordinary series debut!
What would you be willing to risk for a lifetime of fortune?

Emmett Atwater isn't just leaving Detroit; he's leaving Earth. Why the Babel Corporation recruited him is a mystery, but the number of zeroes on their contract has him boarding their lightship and hoping to return to Earth with enough money to take care of his family.
Forever.
Before long, Emmett discovers that he is one of ten recruits, all of whom have troubled pasts and are a long way from home. Now each recruit must earn the right to travel down to the planet of Eden—a planet that Babel has kept hidden—where they will mine a substance called Nyxia that has quietly become the most valuable material in the universe.
But Babel's ship is full of secrets. And Emmett will face the ultimate choice: win the fortune at any cost, or find a way to fight that won't forever compromise what it means to be human.
One touch is all it takes. One touch, and Juliette Ferrars can leave a fully grown man gasping for air. One touch, and she can kill.
No one knows why Juliette has such incredible power. It feels like a curse, a burden that one person alone could never bear. But The Reestablishment sees it as a gift, sees her as an opportunity. An opportunity for a deadly weapon.
Juliette has never fought for herself before. But when she's reunited with the one person who ever cared about her, she finds a strength she never knew she had.
For thirty-five girls, the Selection is the chance of a lifetime. The opportunity to escape a rigid caste system, live in a palace, and compete for the heart of gorgeous Prince Maxon. But for America Singer, being Selected is a nightmare. It means turning her back on her secret love with Aspen, who is a caste below her, and competing for a crown she doesn't want.
Then America meets Prince Maxon—and realizes that the life she's always dreamed of may not compare to a future she never imagined.
The Testing by Joelle Charbonneau
It's graduation day for sixteen-year-old Malencia Vale, and the entire Five Lakes Colony (the former Great Lakes) is celebrating. All Cia can think about—hope for—is whether she'll be chosen for The Testing, a United Commonwealth program that selects the best and brightest new graduates to become possible leaders of the slowly revitalizing post-war civilization. When Cia is chosen, her father finally tells her about his own nightmarish half-memories of The Testing. Armed with his dire warnings ("Cia, trust no one"), she bravely heads off to Tosu City, far away from friends and family, perhaps forever. Danger, romance—and sheer terror—await.
Tally is about to turn sixteen, and she can't wait. In just a few weeks she'll have the operation that will turn her from a repellent ugly into a stunningly attractive pretty. And as a pretty, she'll be catapulted into a high-tech paradise where her only job is to have fun.
But Tally's new friend Shay isn't sure she wants to become a pretty. When Shay runs away, Tally learns about a whole new side of the pretty world—and it isn't very pretty. The authorities offer Tally a choice: find her friend and turn her in, or never turn pretty at all. Tally's choice will change her world forever.
In America after the Second Civil War, the Pro-Choice and Pro-Life armies came to an agreement: The Bill of Life states that human life may not be touched from the moment of conception until a child reaches the age of thirteen. Between the ages of thirteen and eighteen, however, a parent may choose to retroactively get rid of a child through a process called "unwinding." Unwinding ensures that the child's life doesn't "technically" end by transplanting all the organs in the child's body to various recipients. Now a common and accepted practice in society, troublesome or unwanted teens are able to easily be unwound.
Jason Zhou survives in a divided society where the elite use their wealth to buy longer lives. The rich wear special suits, protecting them from the pollution and viruses that plague the city, while those without suffer illness and early deaths. Frustrated by his city's corruption and still grieving the loss of his mother who died as a result of it, Zhou is determined to change things, no matter the cost.
With the help of his friends, Zhou infiltrates the lives of the wealthy in hopes of destroying the international Jin Corporation from within. Jin Corp not only manufactures the special suits the rich rely on, but they may also be manufacturing the pollution that makes them necessary.
Yet the deeper Zhou delves into this new world of excess and wealth, the more muddled his plans become. And against his better judgment, Zhou finds himself falling for Daiyu, the daughter of Jin Corp's CEO. Can Zhou save his city without compromising who he is, or destroying his own heart?
For the millions who log in every day, Warcross isn't just a game—it's a way of life. The obsession started ten years ago and its fan base now spans the globe, some eager to escape from reality and others hoping to make a profit. Struggling to make ends meet, teenage hacker Emika Chen works as a bounty hunter, tracking down Warcross players who bet on the game illegally. But the bounty-hunting world is a competitive one, and survival has not been easy. To make some quick cash, Emika takes a risk and hacks into the opening game of the international Warcross Championships—only to accidentally glitch herself into the action and become an overnight sensation.
Convinced she's going to be arrested, Emika is shocked when instead she gets a call from the game's creator, the elusive young billionaire Hideo Tanaka, with an irresistible offer. He needs a spy on the inside of this year's tournament in order to uncover a security problem . . . and he wants Emika for the job. With no time to lose, Emika's whisked off to Tokyo and thrust into a world of fame and fortune that she's only dreamed of. But soon her investigation uncovers a sinister plot, with major consequences for the entire Warcross empire.
In twelve-year-old Taemon's city, everyone has a power called psi — the ability to move and manipulate objects with their minds. When Taemon loses his psi in a traumatic accident, he must hide his lack of power by any means possible. But a humiliating incident at a sports tournament exposes his disability, and Taemon is exiled to the powerless colony. The "dud farm" is not what Taemon expected, though: people are kind and open, and they actually seem to enjoy using their hands to work and play and even comfort their children. Taemon adjusts to his new life quickly, making friends and finding unconditional acceptance. But gradually he discovers that for all its openness, there are mysteries at the colony, too — dangerous secrets that would give unchecked power to psi wielders if discovered. When Taemon unwittingly leaks one of these secrets, will he have the courage to repair the damage — even if it means returning to the city and facing the very people who exiled him?
The Belles by Dhonielle Clayton
Camellia Beauregard is a Belle. In the opulent world of Orleans, Belles are revered, for they control Beauty, and Beauty is a commodity coveted above all else. In Orleans, the people are born gray, they are born damned, and only with the help of a Belle and her talents can they transform and be made beautiful.
But it's not enough for Camellia to be just a Belle. She wants to be the favorite, the Belle chosen by the Queen of Orleans to live in the royal palace, to tend to the royal family and their court, to be recognized as the most talented Belle in the land.
But once Camellia and her Belle sisters arrive at court, it becomes clear that being the favorite is not everything she always dreamed it would be. Behind the gilded palace walls live dark secrets, and Camellia soon learns that the very essence of her existence is a lie, that her powers are far greater, and could be more dangerous, than she ever imagined. And when the queen asks Camellia to risk her own life and help the ailing princess by using Belle powers in unintended ways, Camellia now faces an impossible decision.
With the future of Orleans and its people at stake, Camellia must decide: save herself and her sisters and the way of the Belles, or resuscitate the princess, risk her own life, and change the ways of her world forever.
EAST ASIA, 2199. After a great war, the East Pacific is in ruins. In brutal Neo Seoul, where status comes from success in combat, ex-gang member Lee Jaewon is a talented pilot rising in the academy's ranks. Abandoned as a child in the slums of Old Seoul by his rebel father, Jaewon desires only to escape his past.
When Jaewon is recruited into the most lucrative weapons development division in Neo Seoul, he is eager to claim his best shot at military glory. But the mission becomes more complicated when he meets Tera, a test subject in the government's supersoldier project. Tera was trained for one purpose: to pilot one of the lethal God Machines, massive robots for a never-ending war.
With secret orders to report on Tera, Jaewon becomes Tera's partner, earning her reluctant respect. But as respect turns to love, Jaewon begins to question his loyalty to an oppressive regime that creates weapons out of humans. As the project prepares to go public amidst rumors of a rebellion, Jaewon must decide where he stands–as a soldier of the Republic, or a rebel of the people.
Diverse Energies edited by Tobias S. Buckell and Joe Monti 
A collection of dystopian short stories featuring diverse main characters and by authors of color.  We are using this for short stories and mentor texts.
A more comprehensive list of fantasy and science fiction books that feature protagonists of color can be found here.
Lee and Low also has this post, it is from 2013 though.
Please share more book ideas!