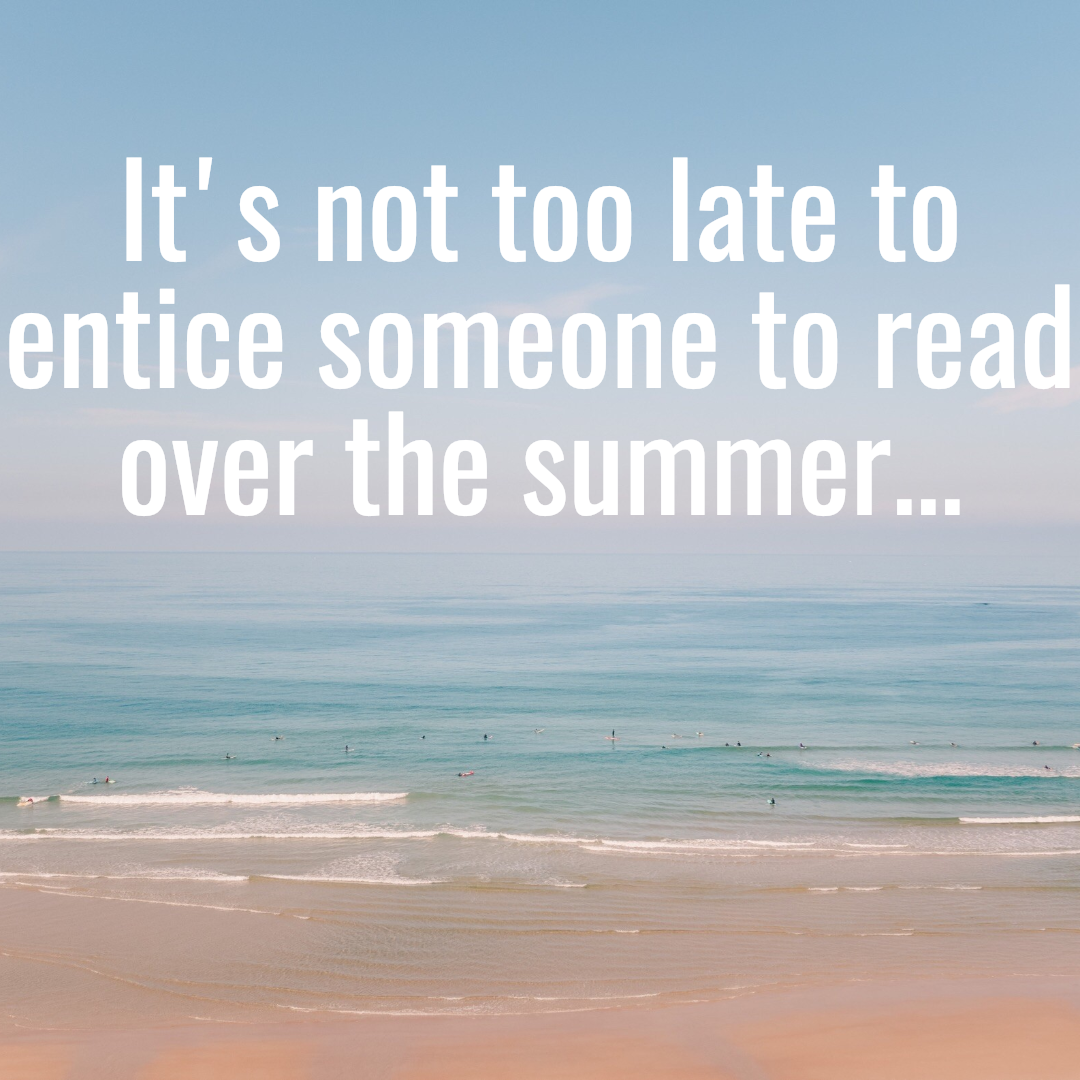 Today the temperature hit 78 degrees. 78 glorious sunny degrees meant a day filled with ice cream, water fights, a nap in my hammock, and as many doors and windows open as possible. With this little taste of summer, my own kids naturally wondered when the days of summer would truly be here. Days filled with sleeping in, popsicles, trips to the pool and, of course, days spent reading. Reading whenever and whatever we would like. Reading aloud. Reading by ourselves. Listening to audiobooks as we travel. Heading to the library as often as we need, simply because we can. May every child have this type of summer ahead.
Yet, we know that for many children, summers do not mean days of glorious reading experience. Typically a third of my own 7th graders reveal that they never read a book in the summer, another third say they read one or so. This is despite the amazing reading experiences they have in the years before us. This is despite the amazing community support we have. We know the research on summer slide, such as what is compiled here by the Colorado Department of Education, and how important continuing to read is over break in order for students to continue to grow. So what can we do with the last few weeks upon us as we try to entice the kids to read once they are away from school? How can we ensure they still have access to great books and the motivation to read something? Here are a few ideas and feel free to add your own in the comments.
We can up our book recommendations. Now is the time to really amp up how many books we book talk in class. While students will also be recommending, we make it a point to recommend at least one or two books a day until the end for students to put on their to-be-read lists. With 35 teaching days left, that is at least 35 invitations to an incredible book.
Students can share their favorite read of the year through a speech. Another way to increase the titles on their to-be-read lists (a list that they created in the first week of school and which has been a central gathering place for their book ideas all year) is by doing a best book of the year speech. While last year we did it as a 15 word speech, this year we may revert to the past way of having them do it in a minute – they share a teaser to the book and why they recommend it. Behind them is a slide with the cover so their classmates (and me!) can write down the title recommendations. To see their favorite books from previous years, go here.
Our libraries can have summer check out. We have a beautiful school library with an amazing librarian and a library aide and they do summer check out every year. A few times before the end of the school year, they have extended after school hours with the sole purpose of having students check out books for over the summer. In the past, they have also had the library open a few times during the summer so students could come in and exchange books. Because not all of our students have many access points to book, this is a vital component in summer reading. I know not every child has a home flooded with books like my own, this is why it is so important we make books accessible to all kids without needing transportation or money to get them.
We can have our public library librarian come in. Every year, the librarian from our public library comes in to share what they will be doing over the summer as well as give library card recommendations. Partnering with your public library is another way to show the value of it and having them come in and speak to students reminds them of this wonderful opportunity.
We can read aloud the first chapter. Sometimes it takes more than a brief book talk to entice and so another great way is to read aloud the first chapter of the first few pages of a book to students in order to spike their interest and possibly add the book to their to-be-read list.
We can hand them a book on the last day of school. Last year, our team purchased a brand new book for every child on our team in order for them to bookshop on the last day of school. This was our way of thanking them for a great year and also providing them with one more opportunity to read a great book. I wrote more about the process here, which we will be repeating again this year.
We can provide ideas for great summer reading experiences to those at home. Last year, I wrote this blog post detailing ideas for how to create joyful reading experiences at home. This year, I plan on sharing it out again with those at home in case they need ideas.
We can share the data on summer slide. I think discussing with students why summer reading is so important is a vital component of trying to motivate them to read. A lot of our students have grown so much this year and as the year winds down we recognize that growth and then also remind them that it would be a shame if some of that growth was lost.
We can email or send home their to-be-read list. We always have students either take a picture of their to-be-read list and email it home to themselves and caregivers/parents, or make a copy of it and bring that home. We know that their notebooks get lost, some intentionally, some not, and so we don't want this great list that they have curated all year to be for naught.
We can share our own to-be-read list and our reading. I love sharing my summer reading plans with students because I know exactly the types of books I want to read; amazing professional development books that will shape my teaching as well as can't put down YA novels. I show them pictures of the piles of books waiting for me and I continue to use my Instagram account to recommend books (#PernilleRecommends), while this account is not solely for my students, many do follow me which then provides another way for me to send a recommendation their way.
There are other great ideas being shared on Twitter and in our Passionate Readers Facebook group such as holding voluntary book clubs over the summer, summer check out from our classroom libraries, and even hand delivering books to kids in their neighborhoods throughout the summer.
I know many schools who have summer reading lists with attached work for students, particularly teenagers, yet the rebel in me cannot help but question this; how is it our right to dictate what happens over their summer break even with our best intentions? This is why we start to discuss summer reading already in the fall, because it is not enough to think about it the final weeks of the year. We know that reading gets a lot of competition when students are not with us and so we try to develop a meaningful relationship with reading all year long in order for students to have some sliver of intrinsic motivation to pick up a book outside of the school day. We ground this work in them reflecting and developing their specific reading identity, sometimes it works, and sometimes it is still not enough. Yet for every book talk, for every book passed into their hands, for every enticing read shared with them, we hope that this year will be the year more kids read over the summer, that more kids find a book or more to help them grow, that this year will have mattered as they leave us.
PS: In case, you missed the announcement, I am running a book study of my first book Passionate Learners this summer in the Passionate Readers Facebook group. You should join us!
If you like what you read here, consider reading my newest book, Passionate Readers – The Art of Reaching and Engaging Every Child. This book focuses on the five keys we can implement into any reading community to strengthen student reading experiences, even within the 45 minute English block. If you are looking for solutions and ideas for how to re-engage all of your students consider reading my very first book Passionate Learners – How to Engage and Empower Your Students. Also, if you are wondering where I will be in the coming year or would like to have me speak, please see this page.