When I first moved to 7th grade eight years ago, one of the first projects we created was the writing of a nonfiction picture book. We wanted a project that was filled with choice, accessible for many developmental stages, that connected us with the world, and also honored students' creative desires and voices. We did it for a few years, then our curriculum changed and we moved from this to TED talks instead, a project I still love. But this year, it felt right to bring it back and after conferring with my students, they agreed. They told me they would love to have a chance to express themselves creatively to audiences around the world, to explore topics of their choosing, and also play with formatting, rather than write another speech.
The entire unit lesson plan for the project can be found here but note that updating it is still a work in progress.
The goal of the project is rather simple; create a 25 to 35 slide/page nonfiction picture book meant for a 1st or 2nd-grade audience on anything nonfiction you wish to write about.  Throughout this project we have been able to successfully marry tech tools with writing, as well as use Google Meet, Padlet, Twitter, and other interactive tools.
Why this project? Because within it we have been able to work on:
How to take organized notes in a way that works for them. Students develop their own note taking tools, with help from me, rather than be forced to take notes one signle way.
How to write a paragraph and all of the myriads of lessons that are attached to that.
Grammar!  Spelling!  Punctuation!
How to find legal images.
How to cite sources, including images, books, and websites.
How to uncover reliable sources (yes, there is a place for Wikipedia in our research) and discuss why somethng may or not be reliable.
How to consider bias and tie that in with reliability.
How to search the internet better.
How to conduct market research using Google Meet to ask the intended audience what they want to read and how they want to read it.
How to rewrite research in our own words, quote, paraphrase and summarize.
How to do design and layout on a page to make it inviting.
How to create good questions.
Exploring our own interests.
How to write assessment rubrics.
How to work as a peer mentor group.
How to monitor self-engagement.
So a few details about the project:
This is a 3-week long project, anchored by a 10 or so minute mini-lessons every day and then work time the rest of class.
Mini-lessons have centered around features of nonfiction, how to take notes ( I showed them several different ways as well as had examples of how actual acthors take their notes), how to research in a way that works for your project, how to find reliable sources (review) and discuss why they might be reliable, how to write paragraphs, how to rewrite information, and anything else we have had to address.
Students were able to ask questions to 1st and 2nd graders via Google Meet to do market research, and incorporate that feedback into their project. This was vital because it changed a lot of kids' interesest, topics, and also their process. Shout out to the 4 awesome classroom who gave up their time!
I am using this blog and Facebook to find classrooms that will assess the final product.  If you would like to be one, please fill out this Google form. Your class can read as many as you have time for and leave us feedback via a very simple Google form.
Students create their books in Google Slides for easy access for all , as well as easy design and layout. They are also given the option to use WriteReader if they would like it to look more like a traditional book.
Changes for this year:
Studying Nonfiction Before we Dive In
I am grateful for the work of Melissa Stewart and other nonfiction authors, who have graciously shared phenomenal work when it comes to understanding, appreciating, and creating this genre of books. Using read aloud and student exploration of texts allowed us to make broad decisions about the type of book we want to write, and also have a common foundation that we can refer to. I cannot speak enough to the power of mentor texts, shared reading experiences, and also finding yet another way to broaden the historical world knowledge students have.
The Peer Mentor Group.
Students have been in their peer mentor groups for a week now. They chose one partner and I then partnered up with another partnership where necessary.  Groups are between 2 and 4 people are used extensively throughout the project both formally and informally. We know that writing carries a lot of emotions and so it is important for kids to get to choose who sees their writing and helps them through the messy draft stages. While I have formal things they do together as a group embedded throughout our time, many kids also sit with their groups and work alongside each other as the days go by.
A Dedicated Mentor Text
Every student has selected a nonfiction picture book whose flow and design they want to emulate. Having a physical text to glance through as they think of their own creative decisions has made the project more tangible and manageable for many because they can see what they can do. I also have my own sample picture book that they can glance through.
Inquiry Questions
We have been focused on different inquiry questions throughout the year and this unit is no different. We have three for this unit that we are trying to answer:
How do we engage a reader? 
How do we write engaging nonfiction?
How do we pass information onto younger people?
Mentor Texts:
I was asked if I would share a list of mentor texts we are using and while I don't mind pulling one together at all, the most important part for me has been to pull as many types of nonfiction picture books as possible. So not only do we have amazing narrative nonfiction, but also books that fall under the other four categories of nonfiction as explained by Melissa Stewart. Our awesome library aide pulled me fun recipe books, how-to books, traditional nonfiction books too so don't forget to partner (again!) with your librarian staff.
We used two amazing books by Traci Sorrell as our mentor texts in our continued focus on Indigenous Peoples in our year together. We read these together, discussed text features, and also look at how facts were embedded throughout. Take some time to carefully select which books you want to center in your instruction as this is another way to bring in conversations about power, privilege, and structures meant to keep people in place, as well as often overlooked history.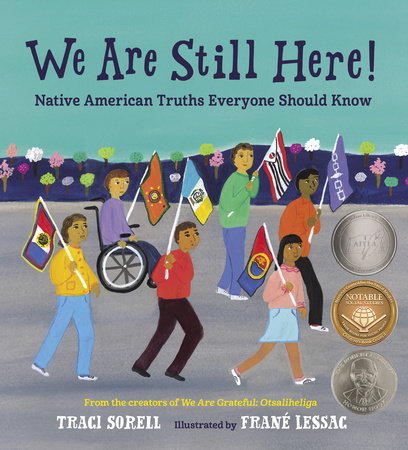 Be Our Readers! (Please)
If you would like to receive some of our finished picture books to give feedback on and you teach 3rd grade or younger, please fill out the form.  Picture books will be shared in a few weeks via email and links to our folders and you will have a few weeks to provide the feedback. Feedback consists of filling in a Google form.
The entire unit lesson plan for the project can be found here but note that updating it is still a work in progress.
If you are wondering where I will be in the coming year or would like to have me coach, collaborate with your teachers, or speak at your conference, please see this page.. If you like what you read here, consider reading my latest book, Passionate Readers – The Art of Reaching and Engaging Every Child.  This book focuses on the five keys we can implement into any reading community to strengthen student reading experiences, even within the 45 minute English block.  If you are looking for solutions and ideas for how to re-engage all of your students consider reading my very first book  Passionate Learners – How to Engage and Empower Your Students.