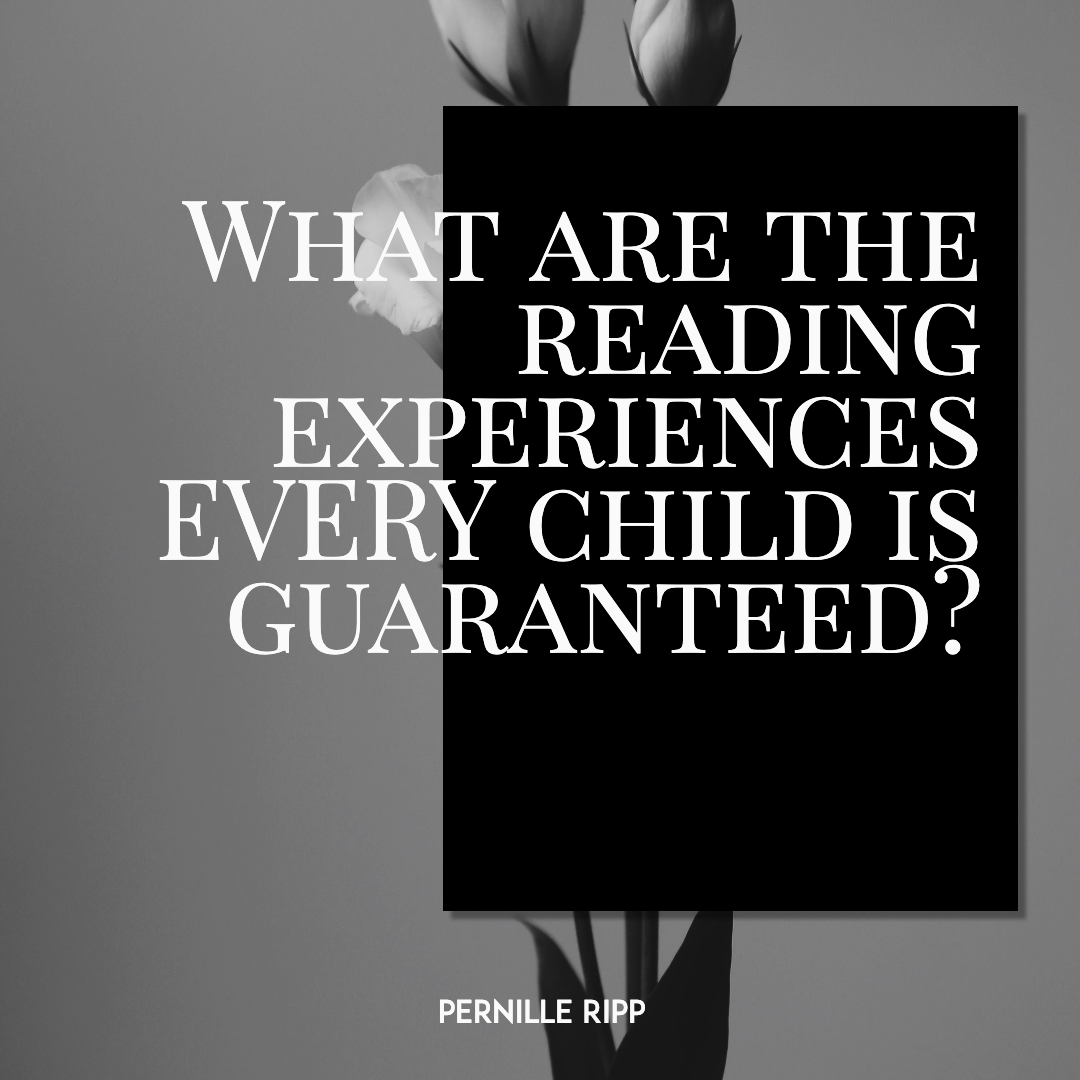 I have been thinking a lot about reading experiences of kids lately. If you follow my writing, you know that this is something I think about a lot. Perhaps it is because I finally have big classes of kids in front of me rather than small cohorts. Perhaps it is because we have only 7 weeks left of the year and I feel the urgency of the mission we have been on all year to help kids change their relationships to reading. Perhaps it is because I am presenting on this topic around the world and so I keep thinking of what else we should discuss about it, what else we can do to potentially change the narrative that seems to be repeating itself this year despite our best intentions.
Because I see a lot of kids not reading. I see a lot of kids disengaged from reading. I see a lot of kids who don't see reading as something valuable or even something they have want to spend time doing. And I see a lot of adults not quite sure how this keeps happening despite everything we are trying.
So perhaps, this post is a way to remind myself to take a deep breath, perhaps it is an offer to us all to rethink the dialogue that surrounds kids' reading lives. Perhaps this is a reminder to those who need to hear it that this disconnect between books and readers is one we have been working through for a long time, one that we will continue to work through for a long time, and it also didn't just happen because of the pandemic. And that there are things we can do but that sometimes we create obstacles that we can't even see, we don't recognize the long term consequences of short-term ideas.
I could blame previous curricular decisions, after all, wouldn't we all like to assume that it is solely because of the decision some other teacher made that created the readers we have. And yet, when we do that, we don't see our own part in this either. We don't see how we often have to interrogate, audit, and change an entire system rather than just one teacher. It is too easy to blame one year or one experience for killing the love of reading. When we get stuck there, it does us no good, it doesn't allow us to see past those small decisions and instead focus on the entire experience. It doesn't allow us to see that perhaps the whole system we function in needs to be aligned and adjusted. That what we see as "okay" may not be at all.
So instead, I would offer up that we use our worry about kids and their relationships to reading to urge us forward. That we start to invest in long-term solutions, discussions, and curricular choices that offer up an opportunity for all kids to connect or re-connect with reading year after year. That we shift the focus from what one teacher can do to what an entire system can take on. That we recognize that to center reading joy is not just the work of one, but the work of many, and that kids need more than one great teacher urging them to read.
And that starts in conversation rather than reading logs. That starts in meaningful work rather than computer quizzes. That starts with making space and time for kids to explore the parts of their identity that is tied in with reading and asking them how they ended up where they are. That starts with recognizing what the reading rights are of all kids, not just the ones we get to teach on a daily basis and then wonder how the experiences they are all guaranteed shape their readerly lives or not.
And so we must put our emotions aside for a bit in order to step into these conversations, to recognize that everything we do should be put on the table in order for us to weigh what may work for all kids. What should be instituted on a whole-school or all-district schedule.
It means that we offer space to think and then space to do. That reflecting on the journey we are on becomes a part of the curriculum, even when we feel pressed for time like this year. That we listen to student voices and have them move us into action. That we consider the weight of their words as we plan for future units and experiences and not just assume that we know what they need or even what they want.
The work of creating joyful reading experiences centered in powerful instructions, access to books, free choice of independent reading books, culturally relevant teaching and ongoing conversations should not and cannot fall on the shoulders of just one teacher. We are not enough, the year we may have with students is not enough. It has to be a whole district or at the very least a whole school conversation and plan.
So where do you start? We start with one single question to guide our work; what are the reading experiences EVERY child is guaranteed in our care. We lay it all out on the table in order to constructively look at what the reading experiences are for every child no matter the reading experience and skills they have had before this year. We truthfully recognize what often happens when a child is identified as being behind in whatever scope the data says and how often that impedes the choices they get to make throughout their day and even the joyful reading experiences they get to be a part of. And then we fight to give them access. We fight to give them equality in their reading experiences and we monitor what happens to the kids in our care.
And we cannot do that work without listening to the voices of our students, without asking the home adults what they see happening while we have kids in our care. We cannot do this work without revisiting the question again and again to re-align and readjust. Without truth, courage, and a recognition that sometimes our best ideas are not the ideas that should continue on.
It takes humility, patience, and toughness to do this work. Our students deserve that their experiences are carefully constructed around choice, around freedom, around receiving the care they absolutely deserve. We can do it and it starts with a conversation and it continues with a commitment.
I am excited to be heading out on the road again to be with other educators in-district or at conferences, while continuing my virtual consulting and speaking as well. If you would like me to be a part of your professional development, please reach out. I am here to help.